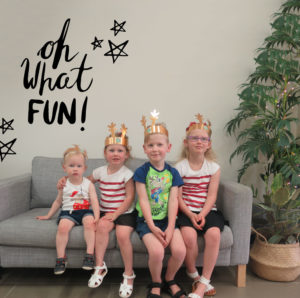 Our year was bookended with two special family events. My brother John getting married in February to my gorgeous new sister Kaitlin. Emily, Edward and Lucy were in the bridal party. What a wonderful day! In November my brother Daniel and his family visited from Seattle. After almost two years it was lovely to spend some time with them.
Matthew is almost two and is full of joy! He is saying quite a few words and loves teddies (currently keeping 4 or 5 in his cot), cars and playing on play equipment designed for children twice his size.
Lucy has started dance lessons with Miss Dee at Gail Meade Performing Arts Centre. She loves colouring, reading books, dancing and riding her bike. We were so proud of her singing on stage at our church's Family Christmas service this year. Lucy's started to draw lovely pictures and write her own name too! Lucy is turning 4 in June 2018, so she'll join in home-schooling next year.
Edward turned 5 and has loved pre-primary. He is now learning to read and especially loves doing 'real sums' in Maths. Edward has been participating in Acrobatics as his sport this year.
Emily was in year 3 this year and continues learning piano, ballet, and acrobatics. Highlights of her year include learning to use her mini sewing machine, spending time with her friends, a garden themed 8th birthday, media classes and reading.
Emily and Edward have enjoyed all kinds of fun events this year. Highlights include: presenting medals at the Spring State Rhythmic Gymnastics Championships (we were there to see Aunty Cait compete), attending the WA Ballet perform Peter Pan at His Majesty's Theatre, and watching Aunty Kaitlin perform the role of Phyllis in a local theatre production of the Railway Children. They have loved the local Children's Christmas Choir and singing Christmas carols for seniors with some friends from North Beach Baptist.
Phill continues at BHP Billiton Iron Ore in Perth, working as Lead Engineer on a new project in the northwest of WA. Phill has been able to join us for a few fun activities this year, including trips to Penguin Island and SciTech. He's recently taken up riding his bike in the early morning around Lake Joondalup, so this year his birthday gift was a brand new one!
Melissa There's never a dull moment when you are wife, mum and teacher! I've continued running Hello Mornings Bible studies, teaching digital scrapbooking and doing a few other crafts too, thanks to the inspiration of our local Mothers of Pre-schoolers group at True North Church.
We are looking forward to Christmas and hope your family enjoys this special time of the year.