2014 was another year filled with joy for the Shanhun family!
February was the beginning of the school year for us. Emily started pre-primary and we continue to homeschool. Emily also started dancing with the Twinkle Toes group at Gail Meade Academy of Performing Arts and has thrived there. Melissa, Emily and Edward also enjoyed heading back to Whitford MOPS (Mums of Pre-Schoolers) group each Friday fortnight.
In March we joined Phill on a business trip to Melbourne and enjoyed looking around the CBD, riding the trams and catching up with our friends and family (Andrew, Esther, Verity and Theo Kerr travelled down from Bendigo to meet us at the Zoo).
Edward turned 2 on the 28th of April and we celebrated with friends and family at our home. He has grown up so much this year and can now tell us his colours ('my faborite dark blue'), numbers and recognised his and Emily's names and a few letters. He's turning into a confident talker too. He continues to love swimming lessons and also looks forward to playing with his little mates at dancing while their sisters are in class.
Emily celebrated her fifth birthday on the 2nd of June with a princess themed party. This year Emily's favourite things were: playing with Friends Lego, anything to do with the Frozen movie and loom bands. She is quite skilled at creating things with tiny, colourful, rubber loom bands while following along with Youtube videos Mummy finds. She is very generous with them. Emily posted several to relatives, plus any playmates who visit leave with one or two loom band bracelets! Other highlights of the year for Emily include moving up two levels in swimming and going to the Church school holiday programme – the Lego Movie theme was just perfect for her.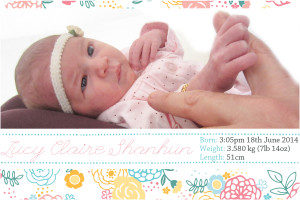 On the 18th of June at 3:05pm we welcomed Lucy Claire into our family. Little Lucy weighed in a 3.580kg (7lb 14oz) and 51cm long. Lucy has been a blessing to our family and is a happy little girl who is now at 5 months rolling and just trying her first tastes of real food. Lucy's favourite things are: watching Emily and Edward play, the Zippy Zebra song and chewing on anything within arms reach (no teeth yet though!).
Phill spent the start of the year finishing off the Jimblebar project, and worked on the new Ore Car Repair Shop – a fully automated workshop with robots and automated vehicles to overhaul and repair the wagons that carry the iron ore from Newman to Port Hedland.  Iron Ore had a restructure in June, and his role split into 3 separate roles, ending up with a promotion from Senior to Lead Electrical Engineer. Phill is also acting as engineering manager for Mines Expansion Project which is a great opportunity to lead a team of engineers.
In other news, Phill constructed and fitted out his new shed, and has been serving as a leader for the Transformers group at Church (8-11 year olds) for a few months this year.
Melissa's continues as wife, mum and homeschool teacher. We enjoyed the flexibility to take several weeks off school while Lucy was tiny. A highlight of the year for me has been leading an online Bible study group called the Hello Mornings Challenge with my friend Jodi. We have now got a lovely group of women from all over WA (and even NT and NSW) who join us to study, exercise and plan each morning during the challenges. We were even able to catch up in-person with the Perth participants. In other news, I was thrilled with the results of my hours sewing and sequinning Emily's dance costumes, a Penguin (for Don Spencer's Fairy Penguin Strut) and Teenie Weenie Genie. Any spare moments were spent scrapbooking, writing and teaching about digital scrapbooking!
We are looking forward to Christmas and hope your family enjoy this special time of the year.
We'd love to hear from you.
See more digital scrapbooking events, workshops and tutorials at Digital Scrapbooking HQ.com