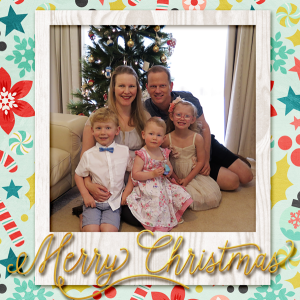 Emily celebrated her sixth birthday on the 2nd of June with a fancy dress party. She dressed as Elsa from Frozen (and all the other girls came as princesses too!). Emily has enjoyed year one of school, swimming lessons and jazz and tap dancing in Tinies A at Gail Meade Academy of Performing Arts.
Edward turned three on the 28th of April and is showing all the signs of being more than ready for kindy – reading double digit numbers to my surprise on our regular walks to the shops and library. He's now moved up to swimming on his own!
Lucy turned one on the 18th of June and we had a celebration with family and friends. Lucy started walking at 13 months and hasn't looked back. In the past couple of months she has really started talking too. Lucy likes to say hello to the baby in mummy's tummy, so we can't wait to see what she thinks when the new baby arrives. Lucy started swimming lessons this year and loves swimming with Daddy.
New Baby: On Mother's day this year we shared the news that a new baby would be joining our family. Baby "Forbes" is due on the 30th of December.
Phill is still at BHP Billiton Iron Ore in Perth, working as Lead Electrical Engineer. Phill has  also been acting as engineering manager for the Jimblebar Expansion Project and is also seconded to the Yandi Replacement Project. Phill has been serving as our Connect Group leader and also Transformers group at Church (8-11 year olds). He is stepping down from both those roles next year as he will more busy with site trips – and the new addition to our family. Phill also enjoyed getting up at all hours to watch the Rubgy World Cup with any brave souls who would join him!
Melissa continues as wife, mum and homeschool teacher. I've also been leading Hello Mornings Bible studies and squeezing a bit of scrapbooking in my spare time. All of us enjoy MOPS (Mums of Pre-Schoolers) group each Friday fortnight. Although I've had morning sickness off and on for almost the whole pregnancy, we have been very blessed that Baby Forbes is looking strong and healthy. Both sets of parents have been helping out with meals and babysitting when I need a break and/or have one of the many doctor's appointments that need to be attended.
We are looking forward to Christmas and hope your family enjoy this special time of the year.
We'd love to hear from you – we are always keen for playing board games, watching sport at all hours and/or coffee! (Phill is also a qualified barista now).
See more digital scrapbooking events, workshops and tutorials at Digital Scrapbooking HQ.com