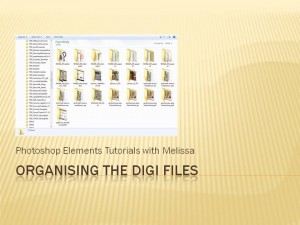 A couple of months ago I contributed to a post over at the Daily Digi about using and organising the Digi Files
Melissa S.:  This is my process –

Download into a TDF## folder in my Digi folder on my PC
Unzip with Unzipthemall
Import into PSE Organizer
Add them to TDF## album
Tag all the previews as previews
Use them to create!
If I decide I want to move some contributions around I use the Organizer to do it, this keeps them all linked up
I have smart-albums set up for my favourite designers so I just click on Flergs (for eg) and all her deigns come up or I use the Ctrl-Shift-K for find by filename
If you are interested in learning more about how I use Organise the Files – you can watch this video!
Organising the Digi Files
In this video I cover:
Unzipping files with Unzip them all
Archiving old zip files
Importing files into the Photoshop Elements Organizer
Creating an album
Tagging kit previews
Moving files within Organizer
Want to learn more about the Digi Files? Check out the Digi Game from the Daily Digi.
See more digital scrapbooking events, workshops and tutorials at Digital Scrapbooking HQ.com