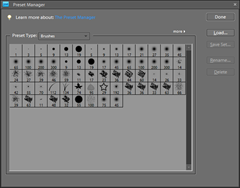 In today's video I'll show you:
How to install brushes in Photoshop Elements and use them.
How to use the Preset Manager to add brushes to the brush list permanently
How to save a custom set of brushes
Installing brushes in Photoshop Elements
For more information about brushes, check out Workshop 3: Misting, stamping, inking and more messy fun!
In this workshop I use brushes for painting in Photoshop Elements, stamping and other techniques.
See more digital scrapbooking events, workshops and tutorials at Digital Scrapbooking HQ.com