Want to learn how to make your templates accessible in Photoshop Elements Organizer?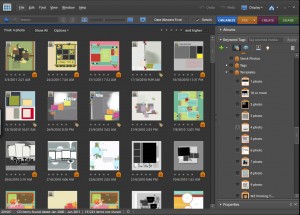 Firstly, Create a Category Tag for Templates
In the Keyword Tags panel of the Organize tab, click the New button and choose either New Category.
Type Templates in the Category Name box. Click to select an icon from the Category Icon list.
Click OK.
Create Keyword Tags for the number of photos in each template
Right Click on the Templates Category Tag and click on Create New Keyword Tag.
In the Create Keyword Tag dialog box, use the Category menu to select Templates (the one we just created above).
In the Name box, type 1 Photo.
Click OK.
Repeat for each of the numbers you want to tag, I have 1-9 then 10 or more photos
Add the tag to your templates
Drag the tag you want to apply onto the Thumbnail of your Template.
All done!
Find your templates easily
To find your templates simply click on the tag and the Organizer will show you all the templates with that number of photo-spots.
Here's a video of how I tag my templates:
Find all your templates easily!
See more digital scrapbooking events, workshops and tutorials at Digital Scrapbooking HQ.com