Copy the layer styles from one layer to another with this quick tip in Photoshop Elements 8
Copy style settings between layers
In the Layers panel, select the layer containing the style settings you want to copy.
Right click on the layer name and click Copy Layer Style.
Select the layer you want to apply the styles to in the Layers panel, and right mouse button click on the name and select Paste Layer Style.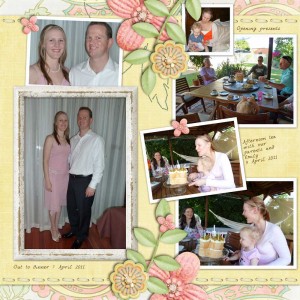 Supplies:
Jen Lindsay's templates from The Digi Game
Freebie from Flergs – Dreaming of Spring via her newsletter The The kit this freebie coordinates is Dreaming of Spring
Let me know what else you'd like to learn about Photoshop Elements in the comments.
See more digital scrapbooking events, workshops and tutorials at Digital Scrapbooking HQ.com